Australian Freestyle flyers Inc
powered by TidyHQ
Welcome to Australian Freestyle flyers Inc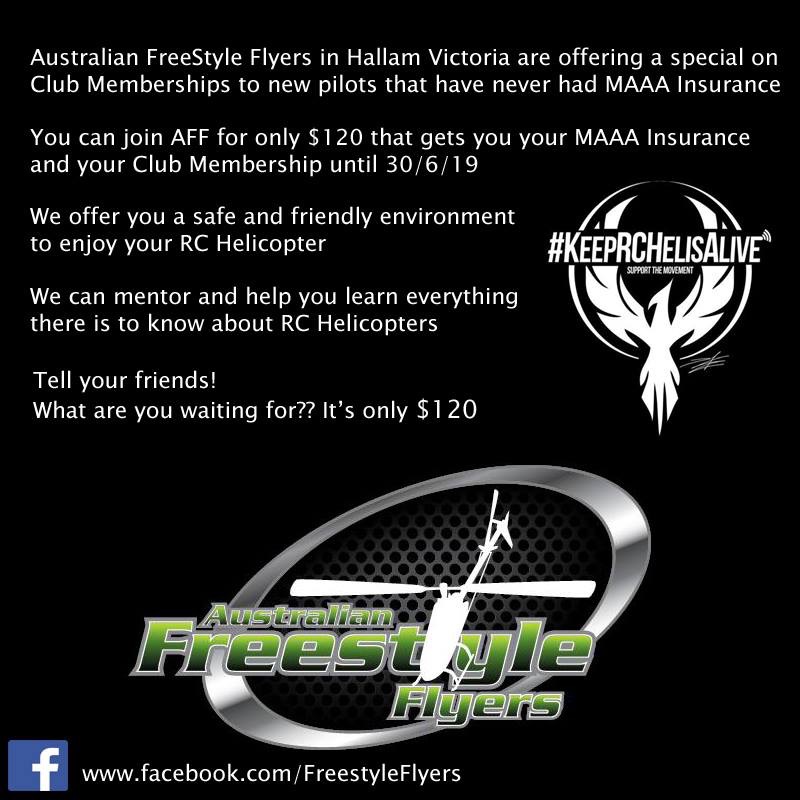 Where the cool kids play…
Australian Freestyle Flyers club is a group of dedicated RC Helicopter enthusiasts based in Hallam Melbourne Australia who fly anything from Scale all the way through to world class F3C and hardcore 3D flying styles. We appreciate all styles and levels of flying and enjoy the challenges that this hobby provides.
Some of our members are sponsored pilots who have competed both nationally and internationally. The club has a very good team culture and we proactively help each other to expand and improve our flying skills.
Our club actively supports new members by providing training and assistance when needed to help them progress.
Our club members range from teens all the way to late 60's, so no matter what your age you are never too old or young to try out this exciting and challenging sport.
If you have ever wanted to learn to fly or simply need a helping hand with your helicopter the Australian Freestyle Flyers club is the only place to fly!
All club corresspondance please send to
Australian Freestyle Flyers
P.O Box 99
Hallam Vic 3803
Clubs of Australia - Online Directory of Clubs and Associations throughout Australia